Yesterday we went into London to see the Dream Toys for Christmas 2015 and what was listed in the top 12 toys out of the 63 listed Dream Toys.  These toys are set to be sell outs this Christmas and for the ones on the Oscar and Archie's Christmas lists I will be grabbing them before they sell out.
Lego City Deep Sea Exploration Vessel is for children aged 8-12 and has an RRP of £79.99.  It includes an exploration vessel, a submarine, a remote sub, a scuba scooter, a shipwreck, shark cage, seaweed, swordfish, an octopus, a white shark ,2 grey sharks and 7 mini figures. This is a great toy and the boat itself actually floats in water, you can lower the submarine into the ocean and activate the shipwreck collapse function!
Disney Frozen Sing-A-Long Elsa has an RRP of £39.99 and is defiantly a dream toy for any little princess! Simply place the microphone up to Elsa and she will start singing the hit song from Disney Frozen "Let it Go". You can join in too just take the microphone away, sing the song and Elsa carries on when you stop. This Queen Elsa doll also says 15 different phrases from the film.
IDO3D Deluxe 3D Design Studio is so clever! I was so shocked when the ladies showed me how it worked. It is absolutely fascinating and I am sure children will find it absolutely mind blowing. It is aimed at children aged 6 and over and has an RRP of £39.99. You can get creative and take your art to the next level with this IDO3D Deluxe Design Studio. It lets you draw in 2D and create amazing multi- coloured 3D masterpieces! IDO3D Deluxe Design Studio lets you draw, set and connect using the UV light. Design like a pro with the 3D guidebook and accessories included or simply let your imagination run free. It is amazing!
Little Live Pets Clever Keet looks like so much fun! With an RRP of £59.99 and aimed at children aged 3 + your child with hours of fun with their new pet. Little Live Pet Cleverkeet is an interactive, singing, talking pet bird! Give him a name, pet him and watch him come to life. He talks, sings, dances and swings. He will respond to your voice and you can teach him to speak. You can even ask him questions and he will respond. Feed him when he's hungry. Play music and watch him dance to the beat! Sit him and swing him on the perch. You can even detach the perch and carry him around! He comes with a playground, a cart, an instruction booklet and an adoption certificate.
Paw Patrol Paw Patroller is defiantly one of my favourites! We have already got this for Oscar as he is Paw Patrol obsessed and has all of the rest of the toys. When we were in Canada in August I also brought him a huge Chase toy which isn't available here yet for him for Christmas too. It has a functioning net and torch and talks. The Paw Patroller is great as it will carry all the pups around and their vehicles. It has a RRP of £59.99 and every Paw Patrol fan will love it. The Paw Patroller is the ultimate rescue vehicle and is perfect for making sure that the Paw Patrol team can get to new exotic adventure locations. You can drive their Paw Patrol vehicles in and head out together for a brand new adventure. The Paw Patroller comes with Ryder and his ATV vehicle and can hold 3 Paw Patrol vehicles inside or display 6 vehicles when open. It has  the Paw Patroller's authentic Paw Patrol sound effects and inside you'll discover a real working lift to take the pup vehicles up to Ryder's Command Centre! I am glad I have already got this hidden away as I am sure it will fly off the shelves.
Pie Face is the funniest game I have come across in ages and I will be getting this to play on boxing day with the family. For children aged 5+ the exciting Pie Face game is filled with fun and suspense and somebody's bound to get splatted! Just put some delicious whipped cream from home or the wet sponge on the "hand" of this hilarious game unit and start turning the handles. It could go off at any time, so keep your fingers crossed and hope you're not the one who gets a splat in the face! You score a point for every time you turn the handle without getting pie-faced, and the one who scores 25 points wins. We will have a great laugh playing this game and I hope its me that doesn't get splatted! It has an RRP of £19.99. Get it before they are whipped off the shelves, don't get pie faced!
Shopkins Food Fair – Scoops Ice Cream Truck is a cute toy. Shopkins are super cute small characters that live in a big shopping world. Join these adorable characters as they take their ice cream truck to the food fair! With real moving wheels, Scoop's Ice Cream Truck comes with a colourful umbrella and selection board for choosing our favourite cool ice cream treat. Included in the Shopkins Ice Cream Truck play set are 2 exclusive characters with 2 exclusive cooler bags to add to your Shopkins collection and for only £19.99 it would make a lovely present for a special little girl.

Star Wars Bladebuilder Jedi Master Lightsaber is on Oscar's Christmas list. Your little ones can master the force and create your own custom Lightsaber with the Star Wars Bladebuilders Jedi Master Lightsaber! The definitive Lightsaber of the Bladebuilders system provides kids all the unique components needed to create 100+ combinations from their imagination! It is great and you get so many bits for your money. For £44.99 you get a Lightsaber, 2 Lightdaggers, 2 elbow connectors, cross connector, dual connector, expansion hilt and instructions. I can see Oscar having great fun with this!
Lego Star Wars Kylo Ren's Command Shuttle is a fantastic, highly detailed starship has loads of features, including opening front, rear and bottom storage bays; wing-mounted, spring-loaded shooters and detachable weapon racks. And when you're ready for even more action, activate the amazing extending wing function! It's time to hunt down the enemy and play out your own great scenes from Star Wars: The Force Awakens! Includes 6 minifigures with assorted weapons and accessories: Kylo Ren, General Hux, First Order Officer, 2 First Order Crew and a First Order Stormtrooper Officer. It has an RRP of £99.99 and you are getting a lot of Lego for your money!
Star Wars The Force Awakens Millennium Falcon is a toy that took me back to my childhood. My Brother had one when he was younger and used to play with all the time. It features a pop-up Nerf launcher, lights, motion-activated sound effects and a fold-out playset. This vehicle playset also includes 3 figures: Chewbacca, Finn (Jakku), and BB-8. There are other figures you can collect too. The Star Wars The Force Awakens Millennium Falcon has an RRP of £119.99.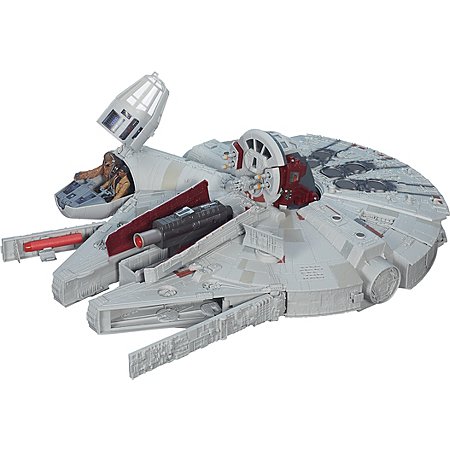 Thunderbirds – Interactive Tracy Island Playset again is a toy that my brother has as a child and it is still in my parent's loft. Children can recreate your own International Rescue adventures with this amazing Tracy Island Playset. Using the latest in smart technology, the vehicles interact with Tracy Island and recreate the launch sequences that you see in the show. Included is a wearable International Rescue communicator. Tracy Island comes with over 50 action, lights and sounds. It has an RRP of £79.99 and I am sure it will fly off the shelves!
Last but not least is the Vtech Toot – Toot Friends Busy Sounds Discovery Home. It has an RRP of £44.99 and is for children aged 1+. Making it the perfect babies first birthday or Christmas present. We got to have a play with it at Dream Toys and were kindly given a character for Archie to play with in our goody bag. Little ones will love this amazing interactive house. MagicPoints interact with characters showing their friendly personalities, fun phrases, motion, lights and more. MagicChat feature in the playroom allows Miss Norah and other MagicPoint characters to talk and sing to each other (other characters sold separately). The lift magically moves up and down to take Miss Norah to the next floor of the house Interactive MagicPoint locations in the house encourage imaginative play and teach cause and effect relationships with movements, lights and friendly phrases. The Vtech Toot-Toots have been a massive hit to date and now Vtech have made it even better!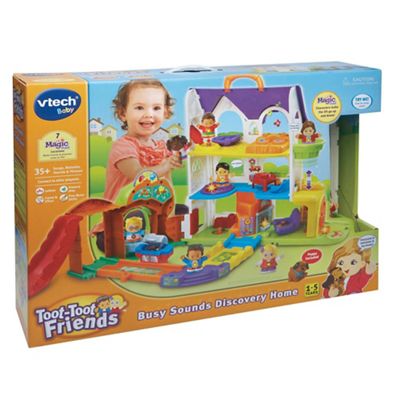 We had a great time at Dream Toys and I will be posting tomorrow all the other toys that we saw and my personal favourites. Happy Christmas shopping!